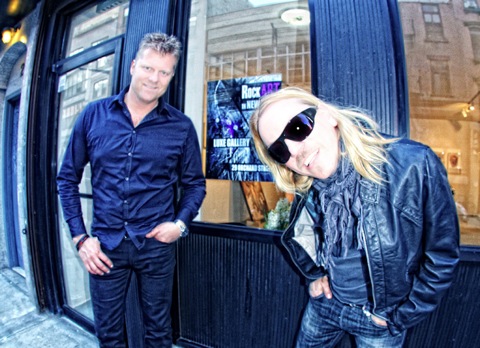 RockART's Björn Johansson & Patric Ullaeus outside LUXE Gallery in New York City 2010.

Pressrelease New York City, USA
RockART
Artwork that Rock Stars have at home on the wall.
Patric Ullaeus
and
Björn Johansson
have joined forces to create new body of work that is both unexpected and exciting: RockART. Drawing inspiration from Rock music and Pop Art, Patric and Björn's work challenges modern conventions. The work, which originally began as a side project, is innovative in its form, method, and materials. As a result of meticulous craftsmanship and composition, an underlying elegance is present in these seemingly dissonant pieces, much like music it reflects.


Patric Ullaeus
has a background in the film world. He is one of the most prominent contemporary music video directors working today. His cinematic styles, vivid imagination and fervent vision have taken him around the world working with many of the biggest names in the industry.


Björn Johansson
is an established designer for over fifteen years and has produced his own furniture collections. He has worked for several of the largest furniture manufacturers in Sweden. Bjorn has always liked to work with solid materials, and the challenge of this project was to transfer his ideas and his technical skills to an entirely different discipline.



"Dynamic, Elegant, Strong, with Character. That's what I call RockArt!"
//Gus G of Ozzy Osbourne

"Heavy music needs heavy art. Patric and Björn has created something brutal yet beautiful. Just like our music!"
//Anders Fridén of In Flames

"This is art that produces the same feelings as heavy Rock and Roll. This is really cool"
//Joey Tempest of Europe

"Björn and Patric creating innovative art with New York feel. Have never seen anything like it."
//Joakim Hjerpe / Art Collector

"Machine Gun Kelly is back. Now in the Art business. Watch out!"
//Jörgen Svensson / Professor of Art


LUXE Gallery's Project Space compliments the duality of the Patric and Björn's work. The space, located downstairs from the traditional white-walled gallery, is gritty and raw but exudes a fresh and creative environment. It's bare walls continually adorned with inspiring artwork.

The LUXE Gallery is excited to host RockART from March 17th thru 31th before RockART heads to Beijing for exhibition.

LUXE Gallery
Stephan Stoyanov
29 Orchard St
New York, New York 10002
212.343.4240


Click here for high resolution press photos